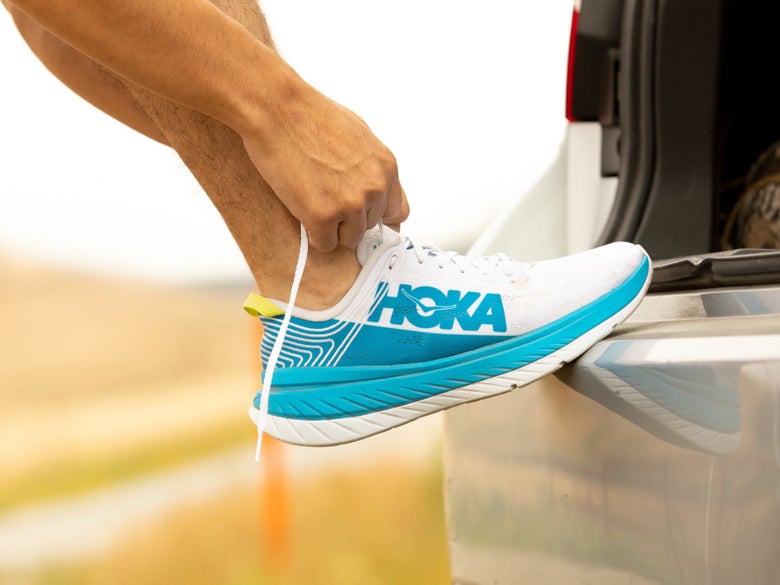 Sneakers are an essential part of keeping your feet comfortable and your gait strong while running. Whether you're new to this form of exercise or you are ready to trade your favorite discontinued running shoes for a brand-new pair, finding the right fit helps protect you from injury and strain. Follow this guide to find the right running shoes for your feet.
Check Your Size
Feet don't always stay the same size, so double check the measurements before you buy a new pair of running shoes. Wear socks similar to the pair you'll wear when running and stand on a piece of paper. Carefully trace around the outline of the foot. Measure from toe to heel on the outline to get the length of your foot and horizontally across the widest section to find your foot width. Compare these numbers to the sneaker manufacturer's conversion chart to find the right size.
Many people wear about a half-size larger in running shoes than in other types of shoes. However, if you're a speed runner, you may want to seek out a more snug fit than a distance runner would need.
What happens when your feet have different measurements? This is actually quite common. You should choose a pair of shoes that best fits the larger foot, since a too-small shoe can potentially cause more issues than a too-large shoe.
Test the Fit
Put on the shoes and lace them firmly but not so tight that your feet feel constricted. To check, make sure you can place a finger between the knotted laces and the tongue of the shoe. Your longest toe should be no closer than a fingernail width to the toe of the shoe, and you shouldn't feel pressure on your toes.
Running shoes should have a slightly looser fit in the toe but conform closely to the midfoot and heel. If you can't wiggle your toes, go up a size or try a different brand. If you can lift your heel up when you hold the back of the shoe, you need a smaller size. Everyone's foot has a different shape, so it takes some trial and error to land on the ideal pair.
Take a look at the shoe's upper. Stretching or bulging may indicate the need to size up, while gathering shows that you could need a smaller size.
Know the Signs of an Issue
If you decide to bring the shoes home, take them for a test run or three within the store's allowable return period. Even the best sneakers for men and women may not be right for your individual anatomy. Your feet should be free of uncomfortable friction and you shouldn't experience pinching or rubbing. Other signs that you should keep searching include
Blisters at the heels, toes or ball of the foot

Toe bruising

Numbness or tingling in the toes
Too often, runners purchase shoes that don't quite fit and think they'll be able to break them in. In fact, if a shoe doesn't fit at first, it will probably always be uncomfortable. For best results, repeat these steps until you find the Adidas, Nike or Puma sneakers on sale that provide the perfect fit.