4K video downloaders for Mac are getting popular these days and why not!!! They make your experience of watching a video unbelievable. All the famous hosting sites host this format because of their viewer satisfaction. As for the popularity, people try to download videos of the 4k format into their computer. Finding the most convenient downloaders on your Mac is kind of tough as because if you search, you are going to find many of them and you can't be sure which one is the best.
We have researched many downloaders from the internet, and here we have listed some top downloaders: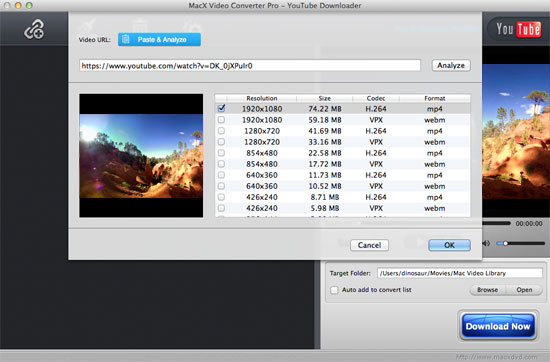 Elmedia Player PRO for Mac: Elmedia Player will be on the list of 4K video downloaders for Mac. It can play videos in 4K and 8K, and it comes for free. If you want to download 4K videos from internet, you can do them with Elmedia Player PRO version which costs $19.95 for unlimited downloads. The options are well placed in Elmedia Player. You can use its built-in-browser to search and download videos, and save the video in any format as you like, such as 3GP, FLV, MP4, etc. The download of 4K will be fast and reliable for Mac.
Elmedia can download almost all the video formats. It has a list of overwhelming supported resources which includes Facebook, YouTube, Vimeo, Dailymotion etc.
Airy: Airy is specially designed for YouTube, and it does its job brilliantly. It can download 4K from YouTube flawlessly. You can save Full HD and $K Ultra HD in different formats in Mac, such as MP4, 3GP, and FLV. It is capable of downloading multiple 4K video files at a time. It has the capability of also downloading private YouTube files once you log in to YouTube. With the help of Free Airy, you can download two videos, but with Airy, which costs reasonable, but you can download unlimited.
VLC Media Player: VLC media player is also a good choice for downloading 4K videos. It has a hidden process of downloading YouTube 4K videos. Once you know the process, it gets very easy for you. Here are the steps for you: Open VLC media player → select Open Network Stream → Go to the Network tab → Click on Tools and go to Media Information → Copy the info from Location and paste it in your web browser → Right click and select "Save video as". Now the YouTube video gets saved on your hard drive in 4K Ultra HD resolution.